Holy Child Kindergarten commenced in January 2022, offering programs for 3 and 4-year-old children and is managed by the Northern Schools Early Years Cluster Inc. (NSEYC), a not-for-profit Early Years Management organisation, based in the northern suburbs of Melbourne.
The kindergarten program invites children to explore, discover, create, investigate, wonder, be spontaneous, take supported risks, make mess and noise, and be wholly engaged in learning through play. Being located within the school grounds provides even more opportunities for children to experience learning in the outdoors and develop their sense of belonging in the wider community.
About the NSEYC
The NSEYC's purpose is to Love a Life of Learning and Living. Our values are Trust, Respect, Relationships and Learning, and these values inform everything we do.  We specialise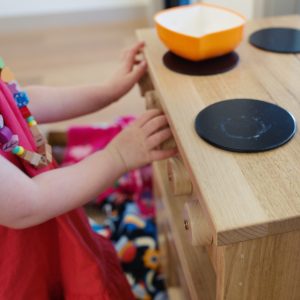 in delivering high-quality early learning programs in close partnership with families, schools and the broader community, as we know this has enormous benefits for children's lifelong learning. Most of our early childhood services are located on school sites. Our Kindergarten to Year 6 (K-6) model aims to make it easier for families to be involved in their children's learning, support collaboration between the kindergarten and Foundation teachers and provide a continuity of learning for children from early childhood through to school. Our educational philosophy includes a focus on authentic relationships to support individual children's wellbeing and development, with a strong emphasis on learning through play in nature.
The NSEYC currently manages 14 early childhood education and care services in total, across the municipalities of Moreland and Hume and the Macedon Ranges.
Enrolments
For more details about the kindergarten and to access the most up-to-date information on how to enrol, please visit the NSEYC website.
Contact