At Holy Child Primary School, we aim to be a community where faith is developed and lived.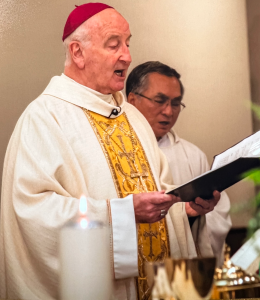 Religious Education is fundamental to the overall development of the child.  We aim to build on each child's experience of living the faith in a Christian family, lead them into a deeper understanding of their life in the Church and give opportunities to grow closer to the wider community of the Parish family.  We endeavour to equi
p the child with the knowledge, skills and understandings necessary to live a full Christian life.  We offer opportunities to nurture faith and spirituality through:
a sequential Religious Education program
individual and community prayer experiences
participation in local parish masses and special whole school masses celebrating particular feast days and special days
preparation for and celebration of the Sacraments of Penance and Eucharist in Year 4, and Confirmation in Year 6
an invitation to be part of a student Saint Mary of the Cross (Mary Mackillop) Group
participation in fundraising activities, in support of social justice issues.
Pedagogy
The Learning and Teaching Process 
Learning and teaching experiences in religious education support students and teachers to engage in a Pedagogy of Encounter.  This pedagogy "acknowledges the grace of God at work in the teachings of the Church, in learning relationships, and particularly in dialogue. It asks … teachers to create opportunities for dialogue that use the Catholic Tradition as a point of concrete reference with what matters most in the minds and hearts of the students and the big questions of life and culture."  (Draft Religious Education Curriculum Framework, 2017, p. 8)
In implementing this pedagogical approach, teachers design experiences for students to enter into dialogue with the Catholic Tradition drawing on five key areas:
What do I think and sense?
What do others think and why?
What does the Church teach and why?
How am I called into a deeper relationship with others and God?
What do I think now and why?