My name is Alan Smith and I am the very proud Principal of Holy Child Primary School. I have had an extensive career in Catholic Education beginning in 1987 as a mature age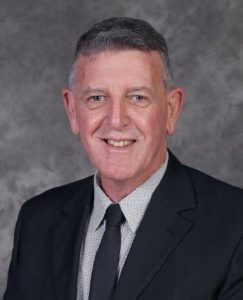 graduate teacher. Prior to studying my Diploma of Early Childhood Education, I worked in many settings including special education, residential care, day care and kindergartens, in and around Melbourne. These experiences called me to teach in Catholic Education and especially Melbourne Diocese.
During my time at Holy Child Primary School, I have been able to achieve much for our school and the community.  Our building programs have continued from the construction of our Mary MacKillop Hall (named after the sisters of St Joseph and with their permission), our classroom upgrades and administration re-build. All of these have allowed our school to rethink the ways we teach our children and engage them in learning. I have also supported and worked with and alongside our community partners. Our partner organisations include the Scalon Foundation (Community Hubs Australia), Banksia Gardens Community Services (Project REAL), Northern Schools Early Years Cluster Inc. (NSEYC), Victorian Play Group Association (VICSEG), Adult Education, Hume Council, Visy Learning Shop, Local Community Houses and more. All these partnerships have provided many opportunities for the people and families in our community to extend their learning, build skills and contribute to the betterment of our community.
Our foremost partner is our Parish. Holy Child Parish is unique in many respects as we share our services and church with the Assyrian Church and we are very blessed to do so. This partnering has provided much, both physical and spiritual support for those in need.
I have also supported the development of our learning and teaching program at Holy Child Primary School. We have continually sought to improve our performance and our practises as learners and teachers. This led us to work with Melbourne Archdiocese Catholic Schools (MACS) to implement an Evidence Based Learning initiative (EBL) which has driven our school to articulate our teacher intentions for learning and what success looks like for children in each lesson. This development allows us, as teachers and students, to set purposeful attainable goals and seek feedback from others on our performance and the development of our individual and team learning. EBL requires us to use and analyse data across the school to improve safety (environmental, physical and emotional), engage students in learning and target student learning.
The foundation of our faith-based activity is a quote from Mary MacKillop "never see a need without doing something about it". This simple statement drives my work at Holy Child Primary School. Jesus is the model I choose to aspire to and Mary MacKillop the call to action to work toward that model.